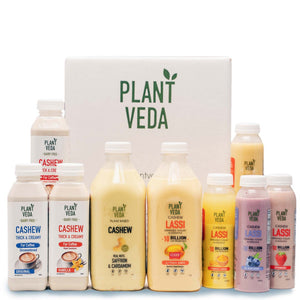 Fantastic Mango Lassi and Pistachio
Great with my mong dal and butter Nan! Will buy again
I love all the products on the box
The box has a great variety of products and format what make easy to grab a lassi on the go and drink it anywhere or have a nice rich cream milk on my coffee. All the products has different flavour what I personal love.
I really recommend also have the box delivery to your door it is the ultimate treat
Market-Fresh to Our Doorstep Every Month!
I am so glad (and grateful) that Plant Veda started their subscription box service! When we had to social distance, I missed our trips to the local farmer's markets the most. One of my favourite market treats was Plant Veda Lassi. My mom and I always looked forward to bringing a few bottles home. Now we have regular deliveries to our doorstep without the risk and hassle of going to the markets. I love the Mango Lassi the most, and my mom loves the coffee creamer. She never buys the stuff from the grocery store any more. It's always fresh and delicious, and the people at Plant Veda are always great to chat with when we want to change our box or try something new. We love Plant Veda!
My favorite probiotic drink!
Finally I found a delicious vegan lassi drink and coffee creamer, I cannot drink any dairy and these are the perfect drinks after my morning yoga practice or after a meal. The convenience of getting them delivered to my door is great!
Love it!
I was so excited when Plant Veda started their subscription box program! Now that I don't go to the farmers markets and keep my shopping trips to a minimum, it's great to have the lassi I love delivered right to my door!