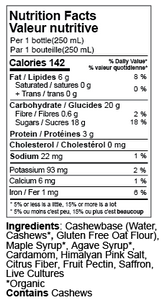 Vegan Recipes are great with Plant Veda!
PVs cashew milk, lassi, and creamers make amazing vegan recipes so easy! Enjoying my vegan custard with fruits this morning with my Saffron Cardamom Cashew Lassi! Sooo yummy!
RLH review
Tried varied Lassi's. All great products. Tasty, filling low on calories and rich in probiotics. Great new alternatives to traditional breakfasts.
Great delivery service too.
Raised the bar on new nutritional foods. Thanks
Lovely lassi
I really really enjoy this lassi it's amazing best ever for the stomach and gut I only gave it one star less as I wish it was thicker 🙏
Delicious
I am not a health nut, vegan or vegetarian, I just love food that tastes good and this fits the bill. It's just a perfect blend of spice and creaminess. I find that around 4:00 my energy level starts to dip and this is the perfect pick-me-up. Even better, there's all the nuts at the bottom of the glass to finish it off! Just delicious and the fact that it's healthy is an added bonus!